What is the case method?
In case-based learning, students learn to interact with and manipulate basic foundational knowledge by working with situations resembling specific real-world scenarios.
How does it work?
Case studies encourage students to use critical thinking skills to identify and narrow an issue, develop and evaluate alternatives, and offer a solution.  In fact, Nkhoma (2016), who studied the value of developing case-based learning activities based on Bloom's Taxonomy of thinking skills, suggests that this approach encourages deep learning through critical thinking: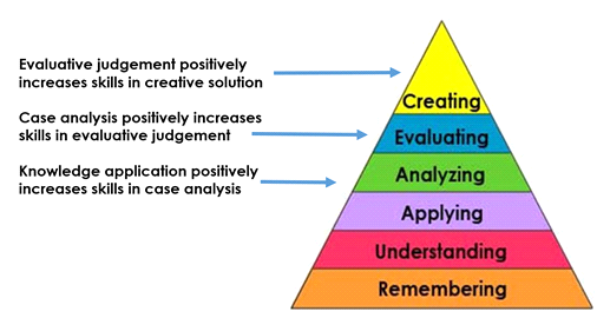 Sherfield (2004) confirms this, asserting that working through case studies can begin to build and expand these six critical thinking strategies:
Emotional restraint
Research
Questioning
Distinguishing fact from fiction
Searching for ambiguity
Listening
What makes a good case?
Case-based learning can focus on anything from a one-sentence physics word problem to a textbook-sized nursing case or a semester-long case in a law course.  Though we often assume that a case is a "problem," Ellet (2007) suggests that most cases entail one of four types of situations:
Problems
Decisions
Evaluations
Rules
---
What are the facts you know about the case?
What are some logical assumptions you can make about the case?
What are the problems involved in the case as you see it?
What is the root problem (the main issue)?
What do you estimate is the cause of the root problem?
What are the reasons that the root problem exists?
What is the solution to the problem?
Are there any moral or ethical considerations to your solution?
What are the real-world implications for this case?
How might the lives of the people in the case study be changed because of your proposed solution?
Where in your world (campus/town/country) might a problem like this occur?
Where could someone get help with this problem?
What personal advice would you give to the person or people concerned?
Adapted from Sherfield's Case Studies for the First Year (2004)
---
Some faculty buy prepared cases from publishers, but many create their own based on their unique course needs.  When introducing case-based learning to students, be sure to offer a series of guidelines or questions to prompt deep thinking.  One option is to provide a scenario followed by questions; for example, questions designed for a first year experience problem might include these:
Before you begin, take a look at what others are doing with cases in your field.  Pre-made case studies are available from various publishers, and you can find case-study templates online.
Tips
Choose scenarios carefully
Tell a story from beginning to end, including many details
Create real-life characters and use quotes when possible
Write clearly and concisely and format the writing simply
Ask students to reflect on their learning—perhaps identifying connections between the lesson and specific course learning outcomes—after working a case
Additional Resources
Barnes, Louis B. et al. Teaching and the Case Method, 3rd (1994). Harvard, 1994.
Campoy, Renee. Case Study Analysis in the Classroom: Becoming a Reflective Teacher. Sage Publications, 2005.
Ellet, William. The Case Study Handbook. Harvard, 2007.
Herreid, Clyde Freeman, ed. Start with a Story: The Case Study Method of Teaching College Science. NSTA, 2007.
Herreid, Clyde Freeman, et al. Science Stories: Using Case Studies to Teach Critical Thinking. NSTA, 2012.
Nkhoma, M., Lam, et al. Developing case-based learning activities based on the revised Bloom's Taxonomy. Proceedings of Informing Science & IT Education Conference (In SITE) 2016, 85-93. 2016.
Rolls, Geoff. Classic Case Studies in Psychology, 3rd Hodder Education, Bookpoint, 2014.
Sherfield, Robert M., et al. Case Studies for the First Year. Pearson, 2004.
Shulman, Judith H., ed. Case Methods in Teacher Education. Teacher's College, 1992.